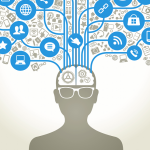 We're an efficient learning machine. This is relatively rare as explained by Daniel Kahneman in Thinking, Fast and Slow. People tend toward thinking fast because it's easy, and tend to avoid thinking slow because it requires time and effort. Dad would say
"Everything sounds easy when you say it fast"
An efficient learning machine is thinking slow in action, constantly investing time and effort to learn, constantly experimenting and failing to improve. With all the effort required, isn't it funny how successful people continue learning and adapting, even when they're at the top of their game.
It's good for Business
Companies that are efficient learning machines continue to grow and adapt and become successful. Customers are attracted to them because they're subject matter experts and because they tend to be genuine nice people who enjoy what they do. Their marketing is also strong because they always have new and interesting stories to tell.
On the flip side, companies that aren't learning die a little every day. It's not like there's something specific you can point to and say that's their problem, it's attitude. It's like they ran out of reasons to try and stay in business due to shear inertia. You wouldn't say you enjoy working with them.
It's Effective Risk Management
Being an efficient learning machine is the low risk choice. Why ? Because you're always one step ahead of the competition. When you continue to take time and energy to learn and improve you stay sharp, you're never bored and you like coming to work in the morning. It's an attitude that inspires a free flow of new ideas and enthusiasm in others.
Maintaining the status quo is the high risk choice. Why ? Because it leads to mediocrity. It authorizes the slide into complacency. Thinking you're done figuring things out. If your competition decides not to take the easy route you find yourself in a bad position and potentially lose status and income.
It's great for Employees
Great employees are doers and thinkers. Give them specific tasks to do and they execute, but they question everything. They are our primary source of innovative ideas, of new and better ways of doing things. Their enthusiasm and new ideas are what allows our company to continue learning and adapting.