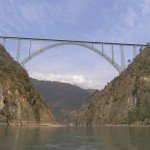 Relationships are like bridges. Before you build one you should have a clear idea about how and why you're planning to build it. If you get it wrong it will collapse. When you get it right they can create opportunity.
Eventually you understand that the road to success and a happy life is paved with the good relationships you build with others.
The best business relationships are ones where the other has expertise beyond your own. When you know each other's strengths and how to use them to your mutual advantage you can create opportunity.
Business has always been about relationships
Relationships are essential in every business. Every company is a customer and a vendor buying and selling various things in a long chain of business transactions. Every company in the chain gets better as their relationships get better and they help each other succeed.
No one does everything well. That's why building relationships with people who know things you don't can be so powerful. Everyone benefits. When each person is free to explain the knowledge and skills they can provide it creates a free flow of new ideas and enthusiasm.
Relationships create opportunity. Each company wins when they use the strengths of the other to their advantage. Successful business relationships are win-win where each company benefits from the relationship.
Some companies don't get it
Some companies act like they know it all and can do it all. They think relationships make them look soft. Instead they see every customer and vendor as a competitor and constantly spar with them to get an advantage. They don't want to listen to new ideas or know what you can provide. They don't get that this limits their opportunity.
This may be driven by their industry. Some businesses work in a kill or be killed environment where relationships are meaningless. I'm thinking they need to change industries or get a lot better at what they do so others want a meaningful relationship with them. Why not enjoy the benefits others can provide.