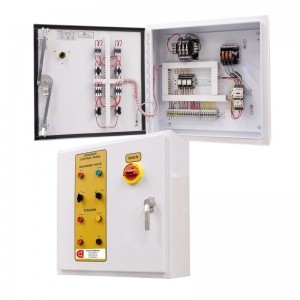 A medium equipment manufacturer produces filtration equipment for specialty applications all over the world. Their specialty is high flow strainers. They produce (50-100) units per year and their standard delivery is (4-6) weeks.
As their business grew, new customers required non-standard panels to specification. Their local panel shop couldn't keep up with their changing business. Their goal was to find a panel shop to help them maintain their growth and keep up with their design and production requirements.
Medium Manufacturer Problems
Sales couldn't quote non-standard control panels fast enough to meet quote deadlines, so Sales would quote their equipment to specification with their standard control panels. This was causing them to miss sales opportunities for custom orders, or lose money on custom orders when received.
There was engineering support for applications and startup and their mechanical equipment, but none for electrical control panels. For many years this wasn't an issue because they didn't have many custom orders. When custom orders increased their Engineering VP was constantly distracted solving control panel problems.
Medium Manufacturer Solutions
We are their engineering support for electrical control panels. If we make a mistake, it's our problem. Their Engineering VP is no longer distracted solving control panel problems..
When Sales receives a Request for Quote, they send us the control panel specifications.
We review the specifications and quote to specification before their quote deadline.
When they get an order, we send a Submittal for Approval. After approval, they send us an order.
We produce on budget, 100% Function Test, and deliver on schedule to their production facility.
Medium Manufacturer Results
They now quote custom orders quickly and accurately and they make money on them. Control panels are no longer a headache and their Engineering VP is able to focus on his primary function.
Contact Us now and tell us your story.