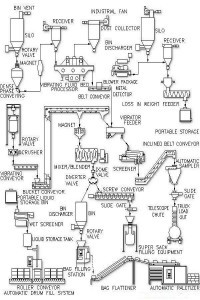 Process control applications are industrial in nature. They're generally designed to make money and involve handling fluids (Liquids, Air, Slurries, Powders, etc.).
When you have a simple application like making tea you still have to execute multiple steps to complete the process.
Fill a pot with cold water
Heat it to a specific temperature
Add a specific amount of an ingredient
Wait a specific time
Empty the pot
The purpose of improving process control is improving efficiency. When the fluid value (gasoline, alcohol, etc.) rises the importance of process control rises because it means making more money.
Process Equipment
The purpose of process equipment (Pumps, Heaters, etc.) is to increase efficiency. Process equipment adds fluid handling capacity and efficiency and this means you're making more money.
When you have a simple application you may still need several pieces of equipment to control the process and a control panel to control the operating sequence
A pump to fill the vessel
A heater to heat the fluid
An agitator to mix the fluid
A pump to empty the vessel.
The nastier the process the higher the risk. Also, the higher the process equipment costs, the higher the importance of process control for efficiency and safety, and the more money you make doing it.
Process Equipment Control Panels
When you're designing an equipment control panel the design priority is proper equipment control. What's easy to miss is the secondary functions and features that go into their design.
Survivability in its mounting environment.
Simple Operator controls.
Ease of maintenance.
Ease of interfacing it with plant monitoring and control systems.
So many factors can go into designing a process equipment control panel it's difficult to list them all. They can be required to meet any specification. NEMA 4X, UL508A, Short Circuit Current Rating, Surge Protection, Intrinsically Safe, etc. and can be installed in any location, Indoors, Outdoors, Corrosive Area, Hazardous Area, etc.