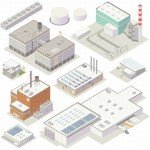 We produce Industrial Control Panels for selected Industrial plants. Most came to us after building their own control panels in-house and working with local panel shops with variable success.
Industrial plants use lots of OEM equipment designed for specific applications. Some also produce equipment in-house and upgrade purchased OEM equipment in-house. They need control panels for their in-house produced equipment and for in-house OEM equipment upgrades.
All of our Industrial customers have two concerns, time and money. When a project comes up they need to develop an economical project budget and implement on time and on budget.
How do we help ?
An Industrial plant's primary interest is keeping their plant and equipment running efficiently. Control panel reliability is an important part of that. Most industrial plants have relationships with several local mechanical and electrical contractors for new project installations and maintenance work. This is not as true for control panels.
Our customers have us produce their control panels because of our service and reliability. They ask us to coordinate our control panels with their project and maintenance people so everything will operate as desired. We focus on the controls so their project and maintenance people can focus on other issues. This is how we help.
What's the process ?
| | |
| --- | --- |
| Project Step | Interaction |
| Budgeting | They give us their specifications for review. We review and discuss our potential cost saving ideas. We provide them with a quote prior to their budget deadline. |
| Design | We make sure we're aware of any changes since budgeting. Then, we provide a detailed engineering submittal for their approval. If our submittal is rejected, we resubmit, and repeat this process until our submittal is approved. |
| Delivery | When our submittal is approved, they give us an official purchase order. |
| Support | During or after start up, if a control panel problem is discovered they call us for support. We help them diagnose and correct the problem. If we made a mistake it's our problem. |