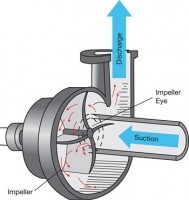 Pump Controls control electric motors that power mechanical pumps. A Pump Control Panel includes power components to control the pump motor, sensors to protect the pump, and pilot devices for operator control. Additional sensors are used to monitor the process for automatic pump operation.
Some pump controls are simple and pre-packaged with the pump for retail purchase like sump pumps. Shop Google for Sump Pumps
Others are pump control systems designed for specific applications and specific customer requirements.
Pump Controls
Protecting the pump and the pump motor are priorities because a pump failure can have serious consequences. At a minimum make sure the motor and pump don't overheat and the pump doesn't run dry. Design the pump control panel based on the application and customer requirements.
A Pump Control Panel has to know the status of process variables required to control and protect the pump. This means it has to connect to devices that are monitoring the process.
Motor Overloads – Pump Protection for when the pump motor current is above its Full Load Amp rating.
Temperature Sensors – Pump Protection when the pump or motor are above their Temperature rating.
Level Sensors – Pump control and protection to insure the pump doesn't run dry
Flow Sensors – Used to verify the pump is moving fluid
Pressure Sensors – Used for pump control and to adjust speed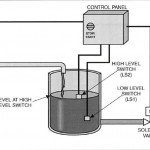 A Pump Control Panel may be designed to control one pump or multiple pumps (Duty / Standby,  Lead / Lag, etc.) as needed and generally operate as follows.
Start and Stop pumps based on the following

Level Sensors, or
Pressure Sensors, or
Flow Sensors

Control pumps using the following

Fixed Speed (Small) – Use an Across the Line Motor Starter
Fixed Speed (Large) – Use a Solid State Soft Starter (Prevent Water Hammer)
Variable Speed – Use a Variable Frequency Drive (Pressure or Flow control)
A Pump Control Panel has to give an Operator the ability to turn the power on and off, control the process, and monitor the process and status of all alarms as needed.
Main Power
Pump Controls

System Off-On Selector, and / or
Manual-Off-Auto Selector, if used
Level or Pressure Setpoint, if used
Speed, if used

Monitor

Running Status light, and
Alarm Status lights, and
Level or Pressure, if used
Speed, if used