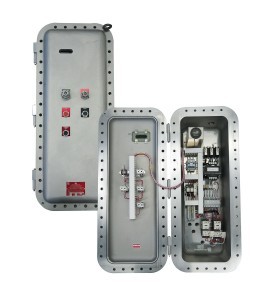 This NEMA 7 compressor control panel example is a redesign of our customer's previous standard panel. It's primary function is to control an Air Compressor on an explosion-proof equipment skid located on an offshore oil rig with a 600V power system.
We redesigned the panel to reduce skid production cost. We provide a tall narrow enclosure with components arranged to allow rear conduit entry. This allows our customer to locate it on the edge of their equipment skid to improve access to the compressor control panel.
Click here to see our Large Manufacturer Success Story
Engineering Submittal Package
We produce an engineering submittal package for every control panel we're planning to produce. We submit to our customer for review and approval prior to releasing it to production. This allows everyone to review what we're planning to produce and confirm that it's correct. Each includes the following sections.
Section A. Datasheets for Enclosures and Accessories
Section B. Datasheets for Power and Control Devices
Section C. Datasheets for Field Mounted Devices
Section D. Drawings
Section E. Bill of Material
Click here to see our Compressor Control Panel (NEMA7) Submittal
Specification Details
Specification
Description
Details
Safety Certification Label
None Requested
Enclosure Type
Wall Mount
Enclosure Material
Cast Aluminum
Enclosure Rating
NEMA 7
Incoming Power Voltage
575VAC 3 Phase
Incoming Power Connection
Power Distribution Block
Enclosure Penetration Provided
Incoming Power Disconnect
None
Incoming Power Short Circuit Protection
Transformer and Fan Motor
Compressor Protected By Circuit Breaker Powering Panel.
Outgoing Power Loads
30 HP & 3 HP Motors
Enclosure penetration provided
Motor Control
FVNR
Across the Line
Control Power
120VAC
Operator Controls
Control Power Light
Stop Push-Pull
Start Pushbutton
High Temperature Light
Overload Reset
Hourmeter
Field Connections
Temperature Switch
Pressure Switch
Unload Solenoid
Enclosure penetration provided