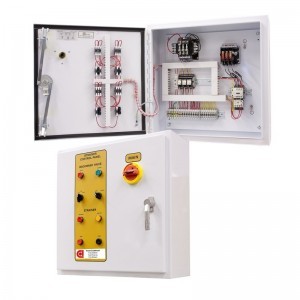 This Self-Cleaning Strainer control panel is an adaptation of our customer's standard panel to meet a consulting engineer's specification. It controls a backwash valve and basket strainer motor based on pressure and time.
We redesigned this panel to meet the consulting Engineer's control panel specification including NEMA 4X 304SS enclosure (Painted White) with a 3 Point Latch and Fused Disconnect. The consulting engineer approved our design without comment. This reduced our customer's pre-production time and cost.
Click here to see our Medium Manufacturer Success Story
Engineering Submittal Package
We produce an engineering submittal package for every control panel we're planning to produce. We submit it to our customer for review and approval prior to release to production. This allows everyone to review what we're planning to produce and confirm it's correct. Each includes the following sections.
Section A. Datasheets for Enclosures and Accessories
Section B. Datasheets for Power and Control Devices
Section C. Datasheets for Field Mounted Devices
Section D. Drawings
Section E. Bill of Material
Click here to see our Self-Cleaning Strainer Control Panel Submittal
Specification Details
Specification
Description
Details
Safety Certification Label
UL508A
Enclosure Type
Wall Mount
Enclosure Material
304 Stainless
(Painted White)
Enclosure Rating
NEMA 4X
Incoming Power Voltage
480VAC 3 Phase
Incoming Power Connection
Main Circuit Breaker
Incoming Power Disconnect
Main Circuit Breaker
Incoming Power Short Circuit Protection
Main Circuit Breaker
Outgoing Power Loads
3 HP Motor
Motor Control
FVNR
Across the Line
Control Power
120VAC
Operator Controls
Main Circuit Breaker
Strainer Start / Stop Pushbuttons
Strainer Run / High DP Lights
Valve Hand-Off-Auto Selector
Valve Open-Close Selector
Valve Open Light
Valve Closed Light
Field Connections
Strainer High Diff Press Switch
Valve Actuator
Valve Open Switch
Valve Closed Switch