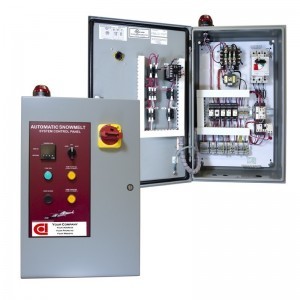 This heat exchanger control panel is designed to mount on an equipment skid. It's primary function is to control a pump and valve based on an outdoor air temperature switch and a snow sensor.
We redesigned this panel to reduce our customer's skid production cost. We reduced enclosure size so it can mount on the edge of their equipment skid and provide field cables to connect to their skid mounted devices faster. These changes simplified equipment skid production.
Click here to see our Small Manufacturer Success Story
Engineering Submittal Package
We produce an engineering submittal package for every control panel we're planning to produce. We submit to our customer for review and approval prior to releasing it to production. This allows everyone to review what we're planning to produce and confirm that it's correct. Each includes the following sections.
Section A. Datasheets for Enclosures and Accessories
Section B. Datasheets for Power and Control Devices
Section C. Datasheets for Field Mounted Devices
Section D. Drawings
Section E. Bill of Material
Click here to see our Heat Exchanger Control Panel Submittal
Specification Details
Specification
Description
Details
Safety Certification Label
UL508A
Enclosure Type
Wall Mount
Enclosure Material
Steel
Enclosure Rating
NEMA 4
Incoming Power Voltage
480VAC 3 Phase
Incoming Power Connection
Main Circuit Breaker
Enclosure Penetration Provided
Incoming Power Disconnect
Main Circuit Breaker
Door Operator
Incoming Power Short Circuit Protection
Main Circuit Breaker
Outgoing Power Loads
7.5 HP 3 Phase AC Motor
Enclosure penetration provided
Motor Control
FVNR
Across the Line
Control Power
120VAC
Sensor Power
24VAC
Operator Controls
Main Circuit Breaker Operator
Hand-Off-Auto Selector
Temperature Controller
Run Light
Flow Fail Indication (Reset)
Overload Indication (Reset)
Alarm Strobe Light
Alarm Horn
Horn Silence
Field Connections
Temperature Switch
Flow Switch
Temperature Sensor
Valve Actuator
SCADA System
Cables provided for Flow Switch, Temperature Sensor and Valve Actuator.Enclosure penetrations provided.