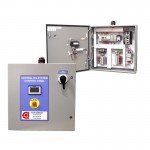 This control panel example is a redesigned version of our customer's previous standard control panel. It's primary function is to monitor and control multiple oil injectors in a large pneumatic conveying system. Their previous standard panel could handle (10) injectors and provided no operator control.
We redesigned their standard panel using a PLC with an Operator Interface. The redesign expanded the number of injectors it could handle from (10) injectors to (20) injectors and gives an operator the ability to individually enable and disable and configure all (20) injectors.
Engineering Submittal Package
We produce an engineering submittal package for every control panel we're planning to produce. We submit to our customer for review and approval prior to releasing it to production. This allows everyone to review what we're planning to produce and confirm that it's correct. Each includes the following sections.
Section A. Datasheets for Enclosures and Accessories
Section B. Datasheets for Power and Control Devices
Section C. Datasheets for Field Mounted Devices
Section D. Drawings
Section E. Bill of Material
Click here to see our Oil Injector Control Panel Submittal
Specification Details
Specification
Description
Details
Safety Certification Label
UL508A
Enclosure Type
Wall Mount
Enclosure Material
Steel
Enclosure Rating
NEMA 4
Incoming Power Voltage
120VAC
Incoming Power Connection
Main Circuit Breaker
Incoming Power Disconnect
Main Circuit Breaker
Incoming Power Short Circuit Protection
Main Circuit Breaker
Outgoing Power Loads
0.75 HP Motor
Motor Control
FVNR
Across the Line
Control Power
120VAC
OIT Power
24VDC
Operator Controls
Main Circuit Breaker
Emergency Stop Push-Pull
Operator Interface
Alarm Strobe Light
Field Connections
(20) Oil Solenoid Actuators
(20) Oil Flow Switches
Metal Oxide Varistors (MOV) for Solenoid Surge Suppression