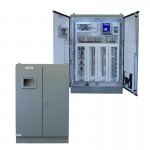 This SCADA RTU panel example is designed to mount inside a heated Pump Station Building. It s primary function is being a Pump Station Control Panel with a redundant (Radio, Autodialer) communications interface back to the central monitoring system.
Our customer develops and maintains municipal water facilities. They used to get competitive quotes for each new project. This was the norm for years to promote competition and reduce panel cost, yet it increased total costs.
Each new panel shop created new problems. Our customer issued a Request For Proposal (RFP) to legitimize their selection of a preferred panel shop. They selected us and now specify us the control panel manufacturer.
Engineering Submittal Package
We produce an engineering submittal package for every control panel we're planning to produce. We submit to our customer for review and approval prior to releasing it to production. This allows everyone to review what we're planning to produce and confirm that it's correct. Each includes the following sections.
Section A. Datasheets for Enclosures and Accessories
Section B. Datasheets for Power and Control Devices
Section C. Datasheets for Field Mounted Devices
Section D. Drawings
Section E. Bill of Material
Click here to see our SCADA RTU Panel Submittal
Specification Details
Specification
Description
Details
Safety Certification Label
UL508A
Enclosure Type
Floor Mount
Wall Mount if small enough
Enclosure Material
Steel
Stainless if Outdoors
Enclosure Rating
NEMA 12
NEMA 4X if Outdoors
Incoming Power Voltage
120VAC
Incoming Power Connection
Terminals
Incoming Power Disconnect
None
Incoming Power Short Circuit Protection
Circuit Breaker
Outgoing Power Loads
None
Motor Control
None
Start Signals to remote equipment
Control Power
120VAC
Radio Power
12VDC
Ethernet Switch Power
24VDC
Operator Controls
Operator Interface
Field Connections
PLC Digital Inputs / Outputs
PLC Analog Inputs / Outputs